Insert the spring nut anywhere along the continuous slotted channel. The rounded nut ends permit easy insertion.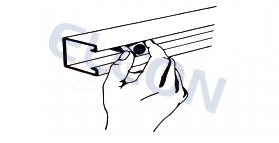 A 90&deg clockwise turn aligns the grooves in the nut with the inturn edges of the channel. Fitting can be placed anywhere along the channel opening, permitting complete freedom of adjustment. The need for drilling holes is eliminated.
Additional channel sections can now be bolted to the fitting already in place by following procedure described in steps 1-3.
Tightening with a wrench locks the serrated teeth of the nut into the iturned edges of the channel, to complete a strong, vise-like connection.
ELCON SUPPORT SYSTEM is designed with many time saving features. Fully adjustable & reusable, with a complete line of channels, fittings & accessories for Multipurpose applications.
• NO WELDING
• NO DRILLING
Are the basic fundamentals of installing this system.